Steps to obtain accreditation for your establishment:

The establishment contacts the Promotion of the City Area of Blanes City Council.

Telephone 972 35 82 60 ext. 4456 and 4453, email: empresa@blanes.cat

 

A technician from Altimir laboratories visits the establishment to offer information and advice on the suitability of the candidate's facilities, gluten-free manufacturing and handling processes, and food safety.

The establishment draws up its selection of gluten-free dishes and products.

The establishment creates a technical sheet of ingredients for each gluten-free dish or product.

All staff members of the establishment receive specific training.

A final assessment is made of the suitability of the establishment's facilities and processes in the making and handling of gluten-free menus and products.

Minor mistakes are corrected, if applicable.

The establishment is awarded the "Gluten Free" accreditation and given a seal to display.
The establishment joins the list of "Gluten Free" establishments of the Celiac Association of Catalonia, and is advertised through the association's app, website and social networks.

The accredited establishment is advertised through all the promotional channels of Blanes City Council.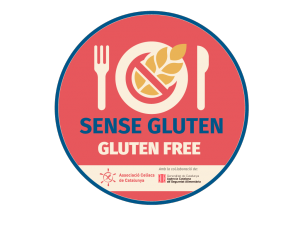 Adhesiu Establiment Sense Gluten